The original plan was to get dropped off near the Valletta City Gate, catch a number of sights in the area, grab lunch, and then continue on sightseeing. But after 36 hours of traveling, that included a 8 hour layover and whirlwind tour of Paris, we slept in that morning resulting in a late start. Talking with our cab driver on the way over, we decided to start at St Paul's Cathedral, and then grab lunch.
I have memories of visiting way too many churches and cathedrals while on a family vacation in Europe as a kid, but the cathedrals are usually one of more impressive buildings in a city, and have a lot of history. The outside of St Paul's Co-Cathedral isn't overly interesting, however the interior, which was redesigned in the 17th century in a Baroque style, is impressive. The entire floor is covered in marble tombstones commemorating various Knights of St. John, and there are paintings, tapestries and intricate carvings everywhere you look.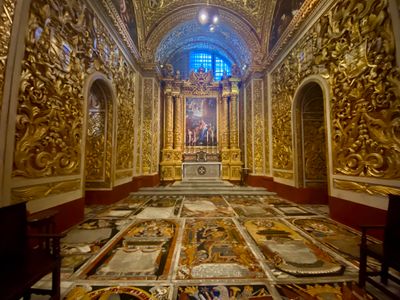 Inside of St John's Cathedral
Part of the entry fee into the cathedral included an audio tour, and my wife and I listened to the first couple of sections, before deciding to selectively skip ahead as needed. The audio tour is very informative, but it was a bit of information overload and I'm guessing it would have taken over an hour to complete. It was quite hot in the cathedral with all the other tourists, and we didn't have it in us to do the full tour. After exploding the main floor, we quickly descended into one of the crypts and then made our way up a tower to a balcony for a bird's eye view.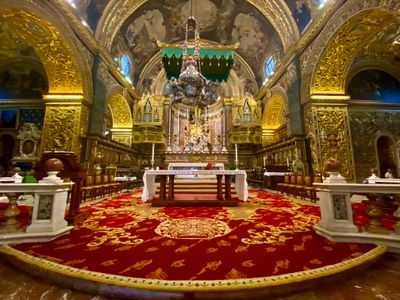 Alter in St John's Cathedral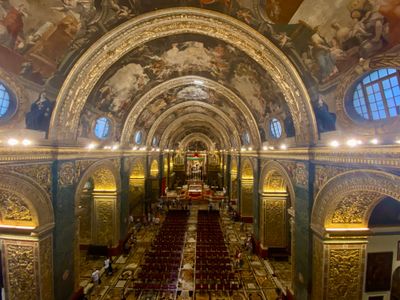 View from balcony
After St John's Cathedral, we made our way over to Luciano's restaurant, which our cab driver had recommended. Wanting to try some local fare, we opted for the spaghetti tal-fenek (rabbit sauce) and Stuffat Tal-Qarnit (Octopus Stew) and aperol spritzes. My wife thought the spaghetti was just ok, but I enjoyed the octopus stew and the aperol spritz certainly hit the spot. Fueled up with the food, we settled the bill and were ready to continue along the way.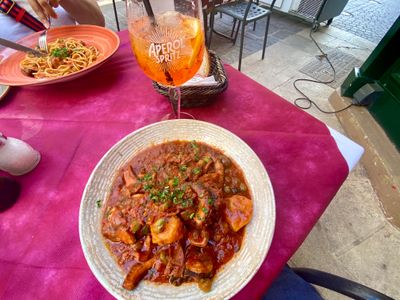 Lunch at Luciano's restaurant
We made our way over Valletta City gate, passing by the parliament building and central bank before arriving in the Upper Barrakka Gardens, which provided a scenic view over the Grand Harbor and Fort St. Angelo. I found the Lower Barrakka Gardens, which we visited later, to be more appealing and have a better view, but the upper gardens were nice nonetheless.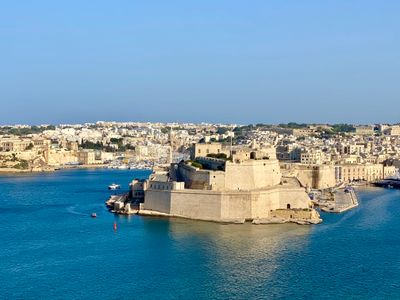 View of Grand Harbor and Fort St. Angelo
From the Upper Barrakka Gardens we walked down St. Paul's Street, enjoying the views down side streets overlooking the Harbor and Wharf. St Paul's street isn't particularly scenic, at least no more so than any other major street in Valletta, but served its purpose in providing a straight shot towards the end of the peninsula.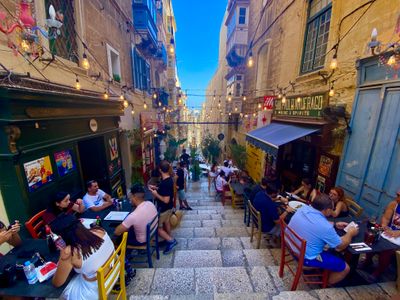 Cool side street in Valletta
We cut over to the Lower Barrakka Gardens, which had a nice fountain in front of a monument dedicated to Sir Alexander Ball, a British Admiral in the late 1700's and early 1800's who became the first Commissioner of Malta. Being a small island, Malta has been a part of a number of different civilizations throughout its history. A little farther along was the Siege Bell War Memorial commemorating the World War II siege of Malta, when Italy and Germany laid siege to the small island nation for two and half years.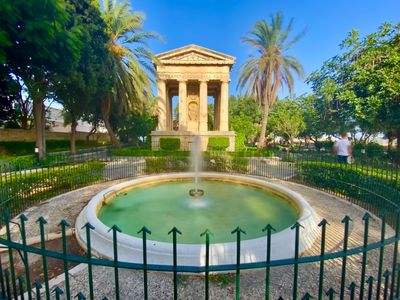 Lower Barrakka Gardens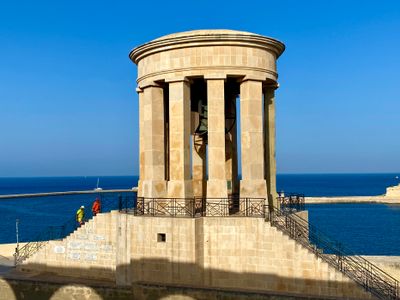 Siege Bell War Memorial
After the gardens, we walked along Mediterranean Street and enjoyed more views of the harbor as well as Fort Ricasoli. I had previously looked into visiting Fort Ricasoli but it was temporarily closed, apparently because they are filming Gladiator 2. We could see a lot of scaffolding around part of the fort, as well as numerous trucks and trailers.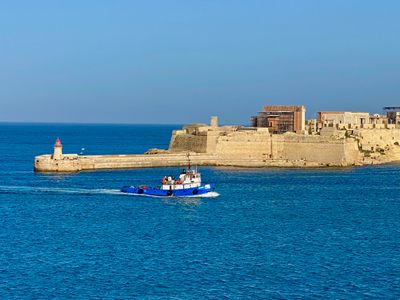 Fort Ricasoli
As we walked by Fort St. Elmo around 5:30pm, it looked like we were a little late, as everything was closing up for the day. In addition to the fort, we had originally planned on walking up Boat Street, and catching the ferry over to Sliema for a pre-dinner drink, but after walking a little past St. Elmo, we decided to call it a day. I had strained my back prior to the trip, and the long plane ride and lots of walking were starting to take a toll.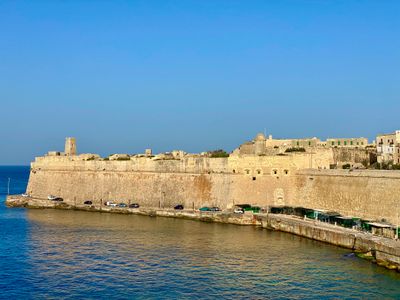 Fortified wall of Valletta
We stopped a little past Fort St. Elmo and grabbed an Uber back to our hotel in Sliema. We certainly didn't see everything in Valletta, but got to see enough and it was a great first day to our trip!