While on a ski tour on Fourth of July Mountain, I had come across a cool rock overlook on the bottom of my descent, and had then followed a snowmobile track out towards Grade Creek that looked to be on some sort of road. Looking at satellite photos showed faint outlines of a road, and I made a mental note to go back and explore once the snow was gone - it looked like it could be a fun hike to bring the family on.
As I pulled onto Antilon Spur Forest Service Road, the thought quickly crossed my mind that I might be better off pulling off on Grade Creek Road and walking down. The road didn't look that bad, but it was overgrown in spots and certainly didn't look like there was an option to turn around if things got ugly. But throwing caution to the wind, I continued down the road. Eventually I came to a short spot that was steep and rutted out, but I was able to get my Subaru down without bottoming out and I found a place to pull over and begin the hike.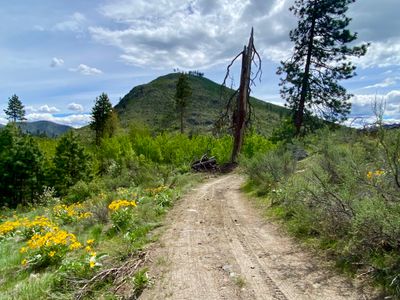 Start of the hike
The road was obstructed by numerous hanging tree branches as it crossed a small dry gully, and on the other side it started heading east away from Lake Chelan. I had a nice view of the slope I had skied on Fourth of July Mountain, and eventually the road started heading west toward Lake Chelan through an aspen grove, which I had gone through on my ski tour.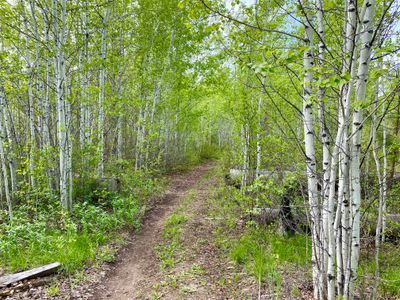 Aspen grove near Upper Antilon Lake
A short while later, Lake Chelan came into view and it was quite the site with the wildflowers still in bloom in the area. The road was starting to look more like a trail at certain spots, but in general the two tire tracks were fairly well defined. In addition to some recent mountain bike tracks on the road, I did notice some other tracks that might have been an ATV or side-by-side. While I hadn't heard of this road/trail before, it obviously gets some use.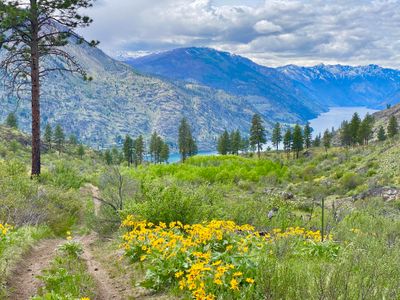 First views of Lake Chelan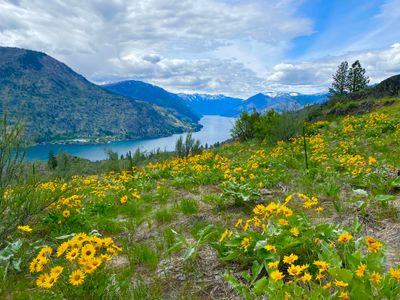 Wildflowers and Lake Chelan
The trail began gently descending, and then a bit further down, started to trend more south and downlake. I noticed a small rocky ridge coming off the road, and ventured off the road and onto the ridge to snap a couple of photos. I was tempted to sit down and enjoy the scenery, but had plans with my family, and had to quickly turn around and start making my way back.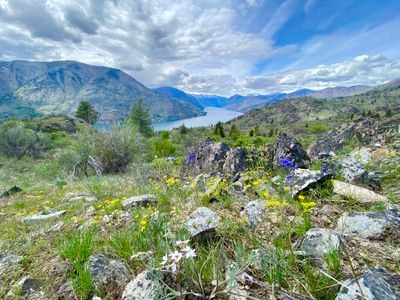 More views of Lake Chelan
It was a little over a mile back with minimal uphill and the hike went by fast. Across the valley I could see slopes covered in arrowleaf balsamroot flowers. Even though it was far away, the slopes were bright yellow, and I tried to get some photos of them, but it was hard to capture.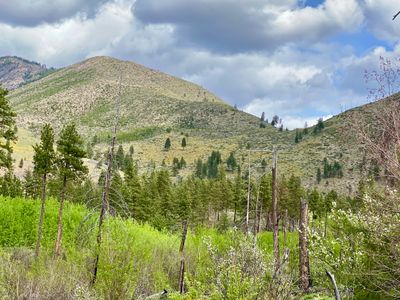 Arrowleaf Balsamroot flowers on the faraway slopes
Back at the car, I was able to turn around and make it back up the rutted out section without issues. I ventured over to Antilon Lake Campground to quickly see if it was possible to link up with this hike and found a faint trail that connects into the road. Excited to take the family on this hike in the near future, and I will probably park in Antilon Lake Campground this time, although my son might have fun driving down Antilon Spur road.