After starting our trip in Malta, we flew into Catania, Sicily and decided to stop by Mount Etna on our way to Palermo. Given we wanted to arrive in Palermo at a decent hour and see some other sights along the way, I had ruled out trying to make it up to the top (or near the top). And given my recent issues with my back, I wasn't even sure at this point how long I would be able to hike.
After picking up our rental car at the airport, we drove up to Piazzale Rifugio Sapienza, arriving around 8:30 am. There were still parking spots available right near the ticket office, after walking into one of the nearby shops to pay for parking, we got in the queue for tickets, waiting about 15 minutes in line. I hadn't realized the cable car tickets were 50 euros per person, but after getting over my initial shock, we decided to purchase the cable car tickets, but not bother with the all terrain vehicles tickets.
There was virtually no wait for the cable car, and I thought we might get one to all to ourselves, however we were paired up with another couple. It was cool to be able to see the landscape on the ride up, with occasional vegetation over the otherwise very rocky landscape. It certainly seemed more barren than the northwest volcanoes I spend time on, although I am usually on those volcanoes when there is a decent amount of snow.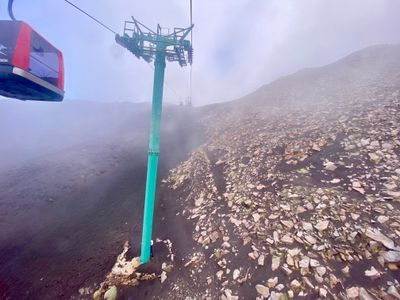 Riding the cable car up Mount Etna
We exited the cable car to find most of Mount Etna enveloped in thick clouds. It had been partly clear when we had arrived at the parking lot, between waiting to buy tickets and taking the cable car up, the clouds had arrived. I hadn't put much forethought into what we were going to do after the cable car, so we started walking up the trail / road which the all terrain vehicles used, stopping to watch as a couple passed by us.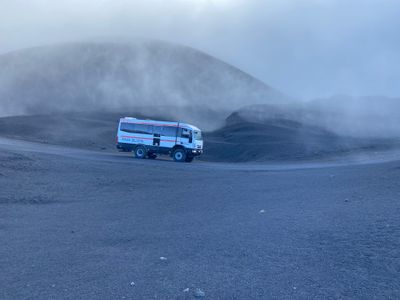 All-terrain vehicle on Mount Etna
After hiking up a bit, we decided to venture off towards a ridge. The clouds were starting to blow away and it looked like we could get some nice views down the mountain, and possibly up towards the top as well.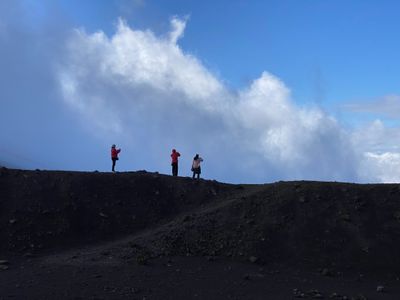 Group on a ridge on Mount Etna
Eventually the clouds gave way, and we could finally start to see the top. We weren't on a specific trail at this point, but it was fairly easy walking along the volcanic rock. We encountered a number of pieces of "rock art", where people had spelled out words or simple pictures with chunks of rock. We thought about trying to spell out our son's name and take a picture, but it seemed like too much work...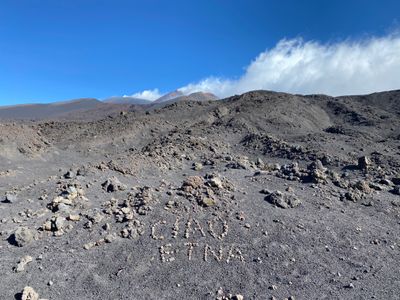 Ciao Mount Etna
We decided to head back to the cable car, and made our way down towards another road / trail. I was a bit bummed to not be heading up higher, but we were on a tight timeline and I was starting to get some discomfort in my back. Not to mention my wife was starting to feel the elevation. As we made our way down, we got a clear view towards the summit.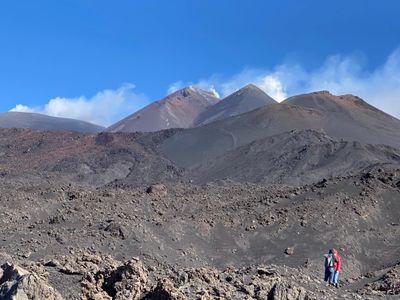 Mount Etna
Walking over to the cable car entrance, the line for the all-terrain vehicles was now very long. I don't know how long of a wait it was, but it didn't seem like the vehicles were coming really frequently, so I imagine at least a half hour wait. If you aren't going to the top, or at least the highest point, it probably doesn't make sense for the extra expense and wait time of the vehicles.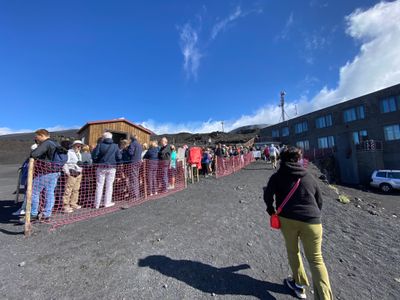 Line for the all-terrain vehicles
We swiped our ticket and grabbed a gondola back down, this early in the morning there was no one else heading down and we had the car to ourselves. At the bottom, there were long lines to get tickets, at least twice as long as when we were there. I would have liked to spend a little more time exploring Etna, and if I ever went back, would probably opt to get a guide and head up as high as possible, or at the very least, spend a little more time hiking around, as there looked to be some cool small craters one could hike to.